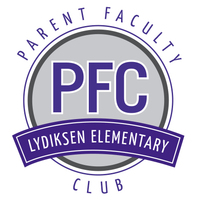 The goal of the Lydiksen Elementary PFC (Parent Faculty Club) is to positively impact the lives of all children and families in the Lydisksen community. We will do this by:


Supporting educational programs at school, both financially and through volunteer hours
Provide social opportunities for the community to come together as families to celebrate our children
PFC Membership provides free online membership directory and voting rights at PFC meetings.


Membership is typically $15/person. This year, in consideration of current circumstances and to encourage parent involvement, PFC Membership will be FREE to ALL families! Please be sure to sign up for your PFC Membership here.